Simpson said the Eagles were happy to do their bit but they were disappointed they were yet to receive a return date and it was time for the club to make its position clear.
"Our position is, if we can't quarantine in our own houses when we get back, and [have to] stay in a hotel for another two weeks, we need to get home after Richmond," Simpson said.
"That's our position, and we're pretty strong on that.
"To play another two or three games here, and then have to go back to Perth and sit in a hotel for another two weeks … we're not here to complain, but we have to look after our staff and players and it's probably a bridge too far."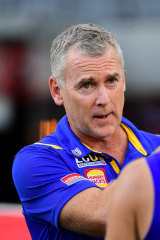 The Eagles lost their first game against perennial cellar-dwellers Gold Coast but the club has been consistent in its position throughout the process, with the coach clear they did not want to stay longer than four weeks inside the hub before they arrived at the Royal Pines resort.
Midfielder Tim Kelly is one of the few players to bring family, as did ruckman Tom Hickey, but Simpson said it was difficult for other loved ones with jobs and other commitments such as children at school to join them in the hub, particularly when there was no return date and there was a chance they would need to spend time in hotels when they return.
"There needs to be a line in the sand at some stage, and we just haven't been informed at the moment about return dates," Simpson said.
"We're happy to do our bit, we're here to win, we're really disappointed in last week, so our priority is footy, but we've also got to look after our players and staff and their health and wellbeing.
"If we have to play one or two extra games here and then quarantine in a hotel, that will be really difficult on our staff and players.
"If we have to quarantine [on the return to Perth] we'll come home after Richmond."
If the Eagles did have to quarantine in a hotel it would be extremely difficult for them to prepare their players effectively for the next phase of the season.
Meanwhile, South Australia opened its borders to WA, Tasmania and Queensland on Thursday and will lift all restrictions from July 20.