"I pushed my body to the limit and ended up collapsing," To'o said. "The last thing I remembered was tripping down the sandhill. I opened my eyes and all the boys had surrounded me and were pouring cold water all over my face.
"I was taken to hospital and ended up staying for four days. They kept me on the drip and had me on a heart monitor.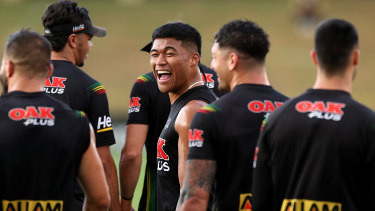 "On the second or third day I thought I could go for a shower because all I felt was the sand up my back and down my bum. I asked the nurse if I could shower, but they had to keep me on the monitor."
To'o could not do anything for three weeks. He was relegated to waterboy duties during the club's pre-season army camp on the outskirts of Brisbane.
While the Wanda sandhills found To'o out, there is no doubting the Samoan's toughness.
Another famous story about him – which is not a Penrith suburban legend – is how To'o, then at school and playing in the club's SG Ball team, woke up one morning with a sore leg, so he caught the bus from Whalan to Mt Druitt, followed by a train from Mt Druitt to Penrith, then hobbled to the Panthers Academy to get it checked out.
"They later told me I had a spiral fracture," To'o said during the week.
While maintaining he is slightly taller than fellow Panthers winger Josh Mansour, To'o, officially listed at 174 centimetres, has never let his height hold him back. He continually crashes through bigger and taller opponents to help the Panthers start their sets. He racked up six tackle busts and nearly 180 metres against Souths in the preliminary final.
Loading
His individual match-up with Melbourne winger Josh Addo-Carr will be one of the highlights of the decider.
"During the season I was keen to play against him, but he didn't play [because of the birth of his second child]," To'o said. "I played against him in the World Cup Nines last year. He got a try against me to win the game. It was a bad memory. He popped a little grubber and put on a good finish.
"Going up against guys like 'Fox' makes you want to play 10 times harder than normal."
Sport newsletter
Sports news, results and expert commentary delivered straight to your inbox each weekday. Sign up here.