Mr Bolden said the 'complicated area of low pressure' had come up from the Southern Ocean, transitioned in the Great Australian Bight and was now heading towards Tasmania.
"It's just very slowly been moving eastwards. It's a clockwise system so it's spinning cold air on its western flank from over the Southern Ocean and pulling cold air around it.
"So that's what's been driving our weather for the last few days and will continue for the days ahead."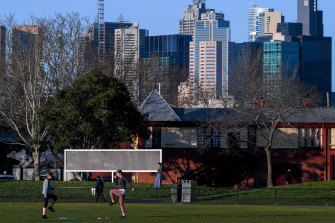 Melbourne is heading for a top of 13 degrees on Friday, but things will feel much colder on Saturday and Sunday according to Mr Bolden.
"Both Saturday and Sunday are looking at tops of 12 degrees, but the top temp will probably only be a very brief peak and the rest of the day be 10 degrees or less and the wind will be coming straight off the water," he said.
As the southerly flow hits Melbourne on Saturday, showers will be more frequent and hail is not out of the question. Mr Bolden said there was a chance of a later thunderstorm both on Friday and Saturday and there's a chance of snow falling at Mt Dandenong on Saturday.
While there will periods of one or two hours which could see up to 10 showers, there will "absolutely" be windows of clear skies in which we can scurry out for an hour of state-sanctioned exercise, according to the forecaster. But you'll have to be quick.
"That's the nature of showers you have clear skies and then an hour later it's overcast and showers, and you ask 'what happened?'" said Mr Bolden. "It's a bit of a gamble."
But hang in there Melbourne – if we hold out though a week of temperatures in the low teens, there's a promised top of a comparatively balmy 17 degrees next Thursday.