"This is a complicated process with lots of diplomatic and security considerations that I can't get into. We said that [annexation] would be after July 1," he is said to have added.
Annexation is a key element of US President Donald Trump's peace plan for the Middle East, which would see up to 30 per cent of the West Bank annexed by Israel in return for negotiations on a future Palestinian state.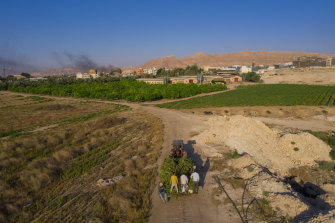 Palestinian leaders have strongly rejected annexation, warning it would be the death knell for a two-state solution and the 1993 Oslo accords, as well as a violation of international law.
Netanyahu is facing pressure from the international community to abandon unilateral annexation, while his own defence minister this week called for the process to be delayed so the government could focus on the coronavirus pandemic.
Loading
Israel's Defence Minister Benny Gantz said on Monday that "whatever isn't connected to the fight against the coronavirus can wait".
The country's Health Ministry recorded 714 coronavirus infections on Tuesday, part of a sharp daily increase in the number of new cases since lockdown was lifted in the Jewish state. Last week, three days of meetings between Trump and his aides on whether to give Israel permission to begin annexation ended without an agreement, according to US media.
Israel is also facing criticism from Britain, the United Nations and the European Union.
Israeli analysts said annexation was an important step that would update the legal framework around settlements in the West Bank.