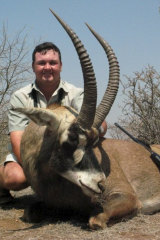 "We spend time, money and effort at Perth Zoo trying to breed these animals and then to see pictures of anybody standing over them with shotguns really does shock me."
After watching a Nine News Perth story on Thursday night breaking the news of Mr Crossberg's past, Mr Dawson said he sought urgent advice from the department's director general, who was in turn seeking advice from the Public Sector Commissioner about what action might be taken.
The photos posted to Mr Crossberg's Facebook page showed him posing, with dead zebras, rhinos, giraffes and elephants, among other animals. The page has since been deleted.
Esperance residents wrote an anonymous letter airing their concerns.
"We the citizens of Esperance are very concerned about the recent appointment of Jewell Crossberg," the letter read.
"We are so disappointed to see Mr Crossberg is not a true conservationist and shouldn't be in a position of this standing."
WA Premier Mark McGowan said it seemed Mr Crossberg had participated in the destruction of rare and endangered, beautiful and magnificent creatures.
"I'm appalled by that conduct. I hate that," Mr McGowan said.
"You see that sometimes online and you think; 'what goes through the heads of people that go and do that sort of thing? What is wrong with them?'"
Loading
The Premier called for an immediate investigation into how Mr Crossberg was appointed to the conservation post.
"It shows that they should have done a Facebook check," Mr McGowan said of the department's decision.
"I don't know why they didn't, I'm not involved in that sort of thing, this sort of things are run by departments. But clearly there should have been a Facebook check."
"I don't understand how you can have that mindset and still work in a conservation agency."
Mr Crossberg's position description says he is responsible for directing and controlling the conservation of wildlife and the management of departmental lands and waters and resources.
Selection criteria required a substantial (Level 6) or extensive (Level 7) knowledge of, and experience in cultural and conservation estate management or closely related field or related technical area with particular emphasis on biodiversity conservation, protection of natural assets.
Daile Cross manages the WAtoday newsroom.