Atlanta, Georgia: If Donald Trump scores a second upset election victory next week, how will it happen?
Although you wouldn't know it from the US President's hectic cross-country campaign schedule, Trump's most likely pathway to 270 Electoral College votes is coming into focus as election day approaches. As happened in 2016, he needs to outperform the polls — which show Democratic challenger Joe Biden significantly ahead — and for luck to be on his side.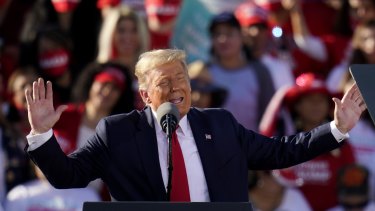 In this thought experiment, let's assume that the 2016 electoral map holds pretty steady. Biden retains Nevada and Minnesota, states that Hillary Clinton narrowly won four years ago. Trump, meanwhile, holds on to North Carolina, Georgia and Arizona — traditional Republican states that are competitive battlegrounds this year.
In this scenario, counting each states' allocated electoral college votes (from representatives who generally cast their ballot in accordance with the popular vote), Biden is sitting on 232 electoral votes and Trump on 231 with four states still up for grabs.