As the first of 4000 troops were deployed to guard churches and schools, police on Friday detained and questioned a 47-year-old man suspected of having contact with Aouissaoui the night before he attacked the church.
The Tunisian-born jihadist arrived in Sicily on a migrant boat in early October but was ordered to leave. He spent time in Paris before travelling to Nice to carry out the assault.
He was shot more than a dozen times by police but survived and is being treated in hospital.
The attack has prompted French President Emmanuel Macron to lift the country's terror alert system to its highest level. A knife-wielding man was arrested in Paris on Friday after threatening police officers.
The military will lift its presence on the streets from 3000 to 7000 and is under pressure to station most of the additional troops ahead of All Saints's Day on Sunday.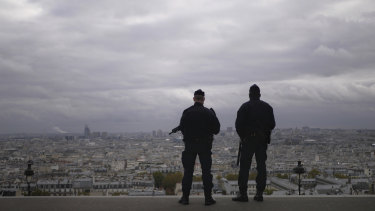 Interior Minister Gérald Darmanin told the public to expect more attacks and said France was being targeted for its values and strident defence of free speech.
"We are in a war against an enemy that is both inside and outside," he told RTL radio.
"We need to understand that there have been and there will be other events such as these terrible attacks."
Foreign Affairs Minister, Jean-Yves Le Drian has also ordered French ambassadors to boost security at embassies and told French citizens abroad to be vigilant.
The Nice incident is the 34th terrorist attack in France since the Charlie Hebdo assault of 2015. Eighty-six people died in the seaside resort town in 2016 when 31-year-old Tunisian Mohamed Lahouaiej-Bouhle drove a truck into crowds celebrating Bastille Day.
"We've had enough," Nice resident Francois Bonson, 38, said outside the Notre-Dame basilica on Friday. He said his mother-in-law often visited the church and initially feared she was among the victims.
"We're forced to live with these foreigners who spit on us, who spit on France," Bonson said.
The Nice attack took place a fortnight after an 18-year-old Chechen-Russian beheaded a Paris school teacher who had shown his students cartoons of the Prophet Mohammad during a lesson about free speech.
In the Tunisian city of Sfax, Aouissaoui's family said he had spoken to them on a video call outside the church hours before the attack. He had shown no sign that he planned any violence, they said.
"My brother is a friendly person and never showed extremism," his older brother Yassin said. "He respected all other people and accepted their differences even since he was a child."
Depictions of the Prophet Muhammad in French newspapers and magazines has angered some Muslims who consider the cartoons needlessly provocative and disrespectful. Turkish President Recep Tayyip Erdogan and Pakistani Prime Minister Imran Khan have accused the French President of demonising Muslims.
A small protest was held outside the French embassy in London on Friday. Large crowds also marched to the French embassy in the Pakistani capital Islamabad, some pelting stones ant police officers who responded with tear gas.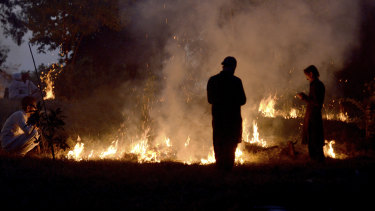 In Bangladesh, marchers in the capital Dhaka chanted "Boycott French products" and carried banners calling Macron "the world's biggest terrorist". Some burned effigies of the French President.
"Macron is leading Islamophobia," said Dhaka demonstrator Akramul Haq. "The Muslim world will not let this go in vain. We'll rise and stand in solidarity against him."
After warning of the likelihood of more attacks, Darmanin condemned "extremely strong calls to hatred" against France and said Erdogan's attacks on Macron, which have included allegations about the President's mental health, were "scandalous".
France entered a four-week lockdown on Friday amid a surge in coronavirus cases which threaten to overwhelm the country's intensive care units.
Bevan Shields is the Europe correspondent for The Sydney Morning Herald and The Age.