NSW Police confirmed a 31-year-old was pulled over in his Mercedes on President Avenue in Caringbah about 1.30am, when it was discovered the driver had an expired licence.
Reynolds was taken to Sutherland Police Station, where he provided an oral fluid sample for a third test. He is awaiting those results.
"I'm wanting to clear this up, because some people have already run my name through the mud and it's just not on."
He was unaware his driver's licence had expired. "I had no idea. I didn't do it on purpose," he told 2GB.
The playmaker told Tigers officials on Monday he was innocent.
Reynolds was in good spirits on the flight home from Brisbane on Sunday night despite the shock loss. There was no alcohol consumed on the flight, which had to be diverted to Sydney because of poor weather.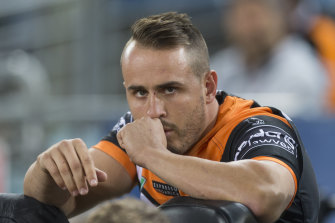 The players caught a bus back to Bankstown where their cars were parked before going their separate ways just before 1am.
The Tigers told the NRL Integrity Unit about the matter. Reynolds has not been stood down from training or playing.
It has been a trying few months for Reynolds, whose domestic violence charges involving former partner Arabella Del Busso were dropped. A third request to get back to his beloved Bulldogs also failed to eventuate.
On Twitter on Monday, Reynolds said: "I arrived back from Qld with the team via plane, late last night. I was driving home to get some food and was pulled up with an expired driver's licence, which I was unaware of an oversight by me.
"The officer conducted alcohol and drug testing. The alcohol test was negative. The roadside drug test was a false positive. I went to the police station and undertook the further sample for the higher level testing, which proved negative.
"I am told false positives on roadside tests are not uncommon. I was then released without charge."
The NRL said the integrity unit were working with the Tigers and NSW Police to determine the full details.
Reynolds will be pushing hard to play against Canberra on Saturday night after being named on an extended interchange the past two rounds. He still has another 18 months remaining on his lucrative deal and impressed officials and teammates with his on-field enthusiasm at training.
Mary Ward is a reporter at The Sydney Morning Herald.
Christian covers rugby league for The Sydney Morning Herald.