Hard lockdown 'effective immediately'
The "hard lockdown" – the most severe restriction imposed so far – will mean that all residents in the towers will be confined to their flats and will not be allowed to leave for any reason.
Loading
"There will be no one going in. And no one will be allowed out," Premier Daniel Andrews said.
"The close confines and the shared community spaces within these large apartment blocks mean this virus can spread like wildfire.
"The order is made for 14 days, that's a function of the act, it can be rescinded at any point.
"Those nine towers will be locked down for at least five days because that is deemed the appropriate period to test everybody … and to have those tests processed by the labs. That data will then guide us as to what the next steps should be."
The increase of 108 cases is Victoria's second-highest rise in cases in a single day after 111 were recorded on March 28. It comes after the state recorded 66 new cases on Friday, 77 on Thursday and 73 on Wednesday.
Dr Annaliese van Diemen, Victoria's Deputy Chief Health Officer, said the source of the public housing cluster was not yet known.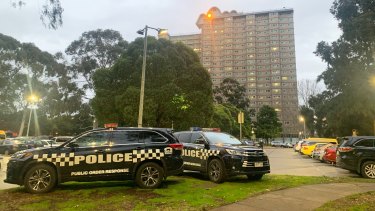 'Potentially hundreds exposed'
"There are many hundreds of people in these towers who have been exposed to the cases we have found. This is not a matter of 20 to 30 people. This is a case of hundreds who have been exposed, many may be incubating," she said.
There are 1345 units across the nine towers, which are home to about 3000 adults and children.
Police from the Public Order Response Unit were already stationed outside the towers on Saturday evening. At least 500 police officers will be deployed to the public housing estates per shift.
Children in the towers on Racecourse Road in Flemington had their faces pushed up against their windows on Saturday night, waving to those entering the building below and yelling out, "We're in lockdown".
Some of Victoria's most vulnerable people live in the nine towers and Housing Minister Richard Wynne said they would be offered mental health and drug and alcohol support. Food and care packages will also be delivered to residents.
Will all of Melbourne be locked down?
Mr Andrews said he did not expect all of Melbourne to have to return to lockdown, if residents followed social distancing guidelines and existing restrictions.
"We cannot do it on our own. We need people to take this seriously. We need people to do the right thing," he said.
Professor Sutton and other top public health officials were told about inadequate supply of masks and gloves, poor infection-control protocols and breaches of physical-distancing guidelines by hotel staff, security and health personnel.
Two Kmart stores were closed on Saturday for deep cleaning after staff members tested positive for the virus.
A sign outside Kmart's Brunswick store at Barkly Square shopping centre thanked customers for their understanding and cooperation, while the Footscray store was also closed. A spokesman said the two cases were unrelated.
Of the 108 new cases, 14 were linked to controlled outbreaks, 25 were detected through community testing and 69 remain under investigation, the Premier said.
There are currently 509 active cases across Victoria.
Twenty-five people are currently in hospital with the virus, including three patients in intensive care.
Victoria has now conducted 906,574 coronavirus tests since the start of the year. Of those, 25,553 were carried out on Friday alone in what is believed to be the single largest day of testing.
with Erin Pearson
Get our Morning & Evening Edition newsletters
The most important news, analysis and insights delivered to your inbox at the start and end of each day. Sign up here.
Ashleigh McMillan is a breaking news reporter at The Age. Got a story? Email me at a.mcmillan@theage.com.au
Liam is The Age and Sydney Morning Herald's science reporter