"There will be a point that if things don't improve that changes will need to be made. There's elements of the game where there is no talent required that we're slipping up in and we need to fix those because that is totally contrary to what the values and the vision for the group is."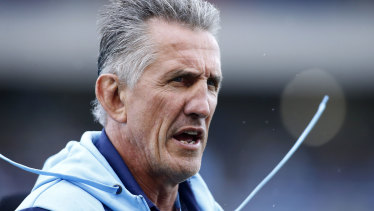 If these comments don't evoke a reaction from the group in Friday's clash with the Lions at Bankwest Stadium, nothing will.
At the end of the day, if effort isn't delivered in spades, a coach has every reason to be unhappy.
On the surface, Penney appears reasonably level-headed following the Waratahs' worst start to a Super Rugby season. He offers encouragement and empathy for a young group desperate to chalk up a win, but if the losing run continues, he could become even more forthright in public.
"The clock doesn't stop ticking," Penney said. "There is going to be a need to get some results. For Waratahs rugby we need to be better than what we are."
Penney doesn't want to rub people the wrong way a month into his tenure as the club's long-term coach and this might explain his decision to stick with a largely unchanged side for the round five match.
Five-eighth Will Harrison earns his fourth start in a row in a stable back line that will include Mark Nawaqanitawase, who returns to the starting side in place of Cam Clark, who drops out of the match-day 23.
Loading
Randwick's James Ramm is in line to make his Super Rugby debut off the bench, while Lachlan Swinton replaces Jed Holloway at No.6.
Ned Hanigan is still unavailable for selection due to an ongoing concussion issue.
The Waratahs have lost their past five matches to the Lions, who have one win and two losses to their name in 2020.
"They'll be difficult, but not insurmountable," Penney said.
Waratahs (1-15): Angus Bell, Robbie Abel, Harry Johnson-Holmes, Tom Staniforth, Rob Simmons, Lachlan Swinton, Michael Hooper, Jack Dempsey, Jake Gordon, Will Harrison, Jack Maddocks, Karmichael Hunt, Alex Newsome, Mark Nawaqanitawase, Kurtley Beale.
Bench: Damien Fitzpatrick, Tom Robertson, Tetera Faulkner, Ryan McCauley, Jed Holloway, Mitch Short, Lalakai Foketi, James Ramm.
Lions (1-15): Dylan Smith, Jan-Henning Campher, Carlu Sadie, Ruben Schoeman, Marvin Orie, Marnus Schoeman, Vincent Tshituka, Len Massyn, Andre Warner, Elton Jantjies, Jamba Ulenga, Daniel Kriel, Manuel Rass, Tyrone Green, Andries Coetzee.
Bench: Pieter Jansen, Sithembiso Sithole, Frans van Wyk, Willem Alberts, Wilhelm van der Sluys, Hacijivah Dayimani, Morné van den Berg, Wandisile Simelane.
Tom Decent is a journalist with The Sydney Morning Herald