Good morning readers and welcome to Tuesday's coronavirus blog. It's Tammy Mills here, I'm usually the legal affairs reporter for The Age, but today I'll be running the blog.
I'm sure I'm not alone in saying it's a good morning to be in Melbourne after yesterday's excellent news. We had no new cases in Victoria and from 11.59 tonight, the city's gruelling 15 weeks of lockdown ends, with shops, cafes, restaurants and pubs reopening.
This photo, taken by Age photographer Eddie Jim last night, pretty much sums it up…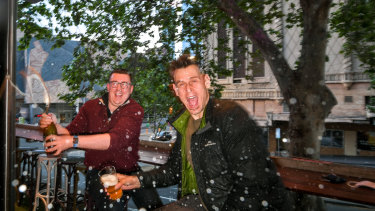 NSW recorded one new locally acquired case yesterday and another three cases in hotel quarantine.
Thanks for tuning in with us and we'll keep you updated throughout the day.